APPLICATIONS FOR CLASSES BEGINNING IN MICHAELMAS TERM ARE NOW CLOSED. We will not accept any further applications for classes beginning in said term. Check back here later for updated application forms for classes beginning in Hilary and Trinity terms. Please do not use old application forms to apply for classes beginning later in the year; such forms will not be accepted.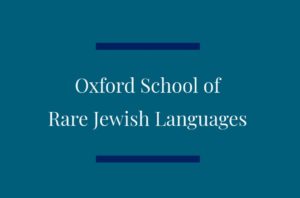 We are pleased to announce 2021-22 as the inaugural year of the new Oxford School of Rare Jewish Languages (OSRJL) of the Oxford Centre for Hebrew and Jewish Studies (OCHJS), in collaboration with other institutions across Europe and beyond including ILARA. Beginning in October 2021, OSRJL will offer a range of free online language classes on eleven vernacular languages, spoken and/or written by Jews from the Middle Ages until today, taught by leading academics at universities in Europe and elsewhere.
Jewish languages are an essential part of the Jewish history, creativity, culture, and identity. Usually written using the Hebrew alphabet and including Hebrew and Aramaic words to express specifically Jewish concepts, these languages share common features even when their linguistic definitions vary. Although these Jewish languages were originally used as means to communicate with the world outside Jewish communities, such vernaculars became the languages of Jewish families, the means of expressing emotions and daily concerns, and, in many cases, vehicles for literature and science as well as tokens of Jewish identity.
Examples of extremely important, immaterial Jewish heritage, some of these Jewish languages are in danger of extinction while others are already dead, known only from early writing. Therefore, OSRJL responds to a real need: European academia offers very few learning opportunities for most of these rare Jewish languages, whereas new research programmes stress their fragility and immense role in Jewish life and culture.
The OSRJL will be the first online school of its kind. By offering free, online teaching of rare Jewish languages and their cultural and historical contexts, along with public lectures and an educational blog series (forthcoming here) on the same topics, OSRJL aims to preserve, spark interest in, enable access to, and reflect on the nature and role of Jewish languages as rich linguistics facets of Jewish life and history.
Student places are available by application only and are offered at no cost to students. Spaces are limited and priority will be given to current university students, but other members of the public are welcome to apply.
Languages taught and their teachers through OSRJL will include the following. Click on the language name for class descriptions and more information.
Please note that student applications must be submitted no later than two weeks before the start date of classes applied for. If you have any queries or comments, and to submit student application materials, please email OCHJS Academic Registrar, Ms Madeleine Trivasse, at osrjl@ochjs.ac.uk.
---
New! Special Music Course Offering, Michaelmas Term 2021
Between the Besht and Bulletproof Stockings: An Introduction to Hasidic Music
Tutor: Dr Diana Matut
Online course via Zoom on Tuesdays 4pm to 5pm (UK time)
For further information, please click here.