The Oxford Summer Institute on Modern and Contemporary Judaism (OSI-MCJ) is an academic seminar framework founded in 2014 by Dr Miri Freud-Kandel of the University of Oxford and Professor Adam Ferziger of Bar-Ilan University under the auspices of the Oxford Centre for Hebrew and Jewish Studies. Since 2015, Professor Hartley Lachter of Lehigh University's Berman Center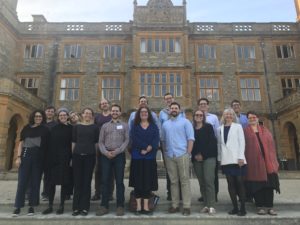 for Jewish Studies has served as co-convener. More recently, a key contributor to past events, Professor Jodi Eichler-Levine of Lehigh University, joined as co-convener.
The OSI-MCJ is designed to facilitate rigorous academic engagement on key themes in the Jewish religion by providing a framework for raising original and challenging perspectives from a broad range of disciplines, with the potential to provide novel insights into contemporary Judaism. It functions as an advanced workshop in which a combination of outstanding senior scholars of Jewish religion and culture from around the globe join with select faculty from the University of Oxford and a select group of early career European Jewish Studies scholars for eight days of intensive study and intellectual exchange. The OSI-MCJ has stimulated the production of a major scholarly monograph along withmultiple special journal volumes and individual publications. Moreover, it has facilitated unique, informal interfaces between veteran and early career researchers from diverse geographic and disciplinary backgrounds. It has a particular interest in contributing to the ongoing expansion of Jewish studies throughout Europe. OSI 'alumni' are, today, a worldwide network of researchers, who continue to learn and collaborate with each other. These scholars attest to the profound experience that the OSI-MCJ offers for rigorous interaction with colleagues in a relaxed but focused framework that spurs creativity and critical but non-judgmental discussion.
Due to the Covid-19 pandemic, the OSI-MCJ did not take place in person in 2020 or 2021. However, online events took place in those years instead. We were pleased that the programme was able to convene in person once again during the summer of 2022 and has continued taking place in person thereafter.