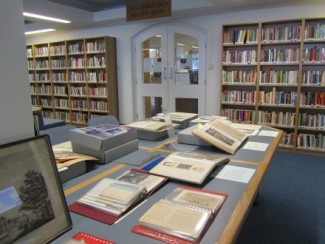 To view the video full screen, please click the button on the right
Visiting Academics
Visiting Fellows
Throughout the four decades of its existence, the Centre has enabled many dozens of scholars from around the world to pursue research in all areas of Jewish history, literature, language, and thought. Visiting Fellowships are currently available for scholars wishing to join one of the Oxford Seminars in Advanced Jewish Studies. Read more…
Visiting Scholars
The Oxford Centre for Hebrew and Jewish Studies is pleased to be able to offer to Visiting Scholars access to shared office space in its premises in the Clarendon Institute in central Oxford. Visiting Scholars are encouraged to attend and participate in the academic activities of the Centre, all of which are conducted in English. They may be invited to present a paper relating to their research, should a suitable opportunity arise.
Applications for Visiting Scholar status should be sent to the Registrar. Applications may be sent at any time in the academic year. Read more…
Visiting Doctoral Students
The Oxford Centre for Hebrew and Jewish Studies welcomes doctoral students in Hebrew and Jewish studies from other institutions, who wish to spend a period of up to 12 months as a 'Visiting Doctoral Student' at the Centre.  During this time Visiting Doctoral Students will be able to interact with the academic staff of the Centre and other students in the subject as well as senior visiting academics who may be at the Centre during the year.  Read more …
Visitors
Other academic visitors are welcome at the Oxford Centre for brief periods (less than three months or for a period outside the Oxford University term).  Such short-term visitors are not formally associated with the Centre but may be offered shared office space in the Clarendon Institute where the Leopold Muller Library is housed and where most of the Centre's academic staff have their offices.  Arranging access to other facilities in Oxford is the responsibility of the individual concerned.
Applicants are requested to submit a CV, a short research proposal and to complete the Visitor Application Form.
Anyone wishing to come to the Centre on this basis should send their complete application by email to the Registrar in the first instance. Applications may be sent at any time in the academic year.
Current Visitors
Find out who's visiting the Centre at present