The Leopold Muller Memorial Library has launched a digital version of the exhibition We Have Reason to Inquire: The Life and Works of Rabbi Dr Louis Jacobs. The exhibition illustrates Rabbi Dr Jacobs' life and thought by means of documents, letters, newspaper clippings, manuscripts, typescripts and photos. It contains everything displayed in, and also supplements, the physical exhibition at the Leopold Muller Memorial Library which is open for viewing until October 2013, Mon.-Fri., 9:00 a.m. to 5:00 p.m.
In a 2005 Jewish Chronicle poll, Rabbi Dr Louis Jacobs was voted the 'Greatest British Jew'. He was undoubtedly the outstanding twentieth-century Anglo-Jewish scholar and rabbi, combining an active rabbinical career with tireless activity as a scholar in Jewish Studies, publishing widely on topics such as Jewish thought and mysticism, Jewish liturgy, Hasidism, rabbinics and history. He was especially fruitful in the area of Jewish philosophy, specifically in the field of Jewish theology, and it is on Rabbi Jacobs as a Jewish theologian that this exhibition concentrates. At the same time it also covers his continuous activity as a community rabbi, concerned with practical issues facing his congregation, and always intent on communicating to the 'Jew in the pew'  – his words – the ongoing conversation with Jewish tradition that was his intellectual life.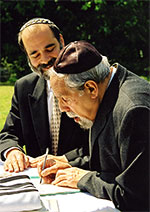 Rabbi Dr Jacobs was in communication with some of the greatest scholars of his time. Throughout his working life he published numerous books on Jewish Studies, including some on areas that had traditionally received less attention from scholars, such as Hasidism and mysticism. In this eclectic choice of fields, as well as in his wide range of knowledge, he was comparable to scholars such as Gershom Scholem.
It was the 'Jacobs affair' that brought him to the attention of the general public, and its reverberations kept him firmly in the public eye. The Masorti movement, which he did not instigate but which he supported after its birth, changed the tenor of Anglo-Jewish life in ways which would not have been possible had he restricted himself to a purely scholarly career.
Rabbi Dr Jacobs donated his Library to the Leopold Muller Memorial Library thanks to the good offices of the former Fellow Librarian, Dr Piet van Boxel. The Exhibition has benefited from the help of the Friends of Louis Jacobs, particularly Rabbi Jacobs' son, Mr Ivor Jacobs, as well as the rest of the family. The main source has been the family archive, part of which has been lent to the Library, and which the Library has started to digitize. The Exhibition Team is extremely grateful to all who contributed to our project in terms of adding archival material, offering advice, or helping and supporting us throughout the process.
The Exhibition was curated by Dr César Merchán-Hamann, with co-curators Milena Zeidler (in charge of the digital exhibition, among other things), Jane Barlow and Dr Zsófia Buda.