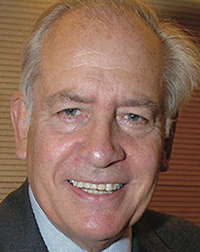 Lord Guthrie of Craigiebank, a member of the Board of Governors of the Centre, has recently been appointed Field Marshal after a long and distinguished career in the Army. This is the highest possible rank, senior to that of a General, and is held currently by just eight people, three of them members of the Royal Family. Only 140 people have held the rank in the history of the Army.
He was invited to become a Governor by Peter Oppenheimer, the Centre's previous President, who had invited him to lecture to Oxford undergraduates and academics on the concept of the 'Just War', on which he had recently co-written a short book with Sir Michael Quinlan in 2007. He was impressed by the quality of the question-and-answer session that followed his talk, and pleased to meet several students who had served with the Israel Defence Forces. The book, which discusses philosophical, political and religious attempts to define the ethics of warfare, is informed in part by Lord Guthrie's Roman Catholicism, and finds strong resonances in Jewish thought. Controversy followed public comments about the unethical nature of the war in Iraq and of Israeli incursions into Lebanon, due to the involvement of civilian populations, but he believes that politicians and army officers are morally obliged to consider the issues he raises.
Baron Guthrie, who became a life peer in 2001, served with the Welsh Guards and the Special Air Service, was involved in military operations in Northern Ireland and provided advice to the Government during the Bosnian War and the Kosovo War. He was Chief of the General Staff, the professional head of the British Army, between 1994 and 1997, and Chief of the Defence Staff between 1997 and 2001.
Since retirement Lord Guthrie has served as a cross-bencher in the House of Lords, as a member of the Top Level Group of UK Parliamentarians for Multilateral Nuclear Disarmament and Non-proliferation, and as President of several charities, including Action Medical Research, the Federation of London Youth Clubs and the Progressive Supranuclear Palsy Association (supporting research into a degenerative disease of parts of the brain). The Centre is just one of the organizations to which he makes a unique and valuable contribution.