To view the video full screen, please click the button on the right
Development of the Centre
The Centre was founded in 1972 by Dr David Patterson, then Cowley Lecturer in post-Biblical Hebrew, and thereafter the Centre's President until his retirement in 1992. The University of Oxford, while strongly welcoming David's initiative, emphasised that the Centre must be financially self-supporting as there was no scope for allocating funds from the University's central budget. This has remained the position to the present day.
The Centre was originally based at the Oriental Institute in Pusey Lane, Oxford, later moving to rented premises at 45 St Giles' (a building owned by St John's College) in order to accommodate the increase in staff numbers and to provide more teaching rooms. At the same time the Centre acquired in 1973, through the generous action of the Charles Wolfson Charitable Trust, the use of Yarnton Manor, an early seventeenth-century house and rural estate just outside Oxford.
Meanwhile, the Centre's physical integration with the University was advanced in the autumn of 2000, with the formation of the Oxford University Teaching and Research Unit in Hebrew and Jewish Studies. Now known as the Hebrew and Jewish Studies Unit of the University of Oxford, it was housed on the third floor of the Oriental Institute, the construction of which was funded by the Centre's supporters. The Centre was designated a Recognized Independent Centre of the University of Oxford in 2006.
In September 2014 the activities of the Unit were brought together with the research activities which had been housed in Yarnton, and the combined operations of the Centre were relocated to the Clarendon Institute, a late-Victorian building in central Oxford owned by the University.
Visiting Fellows
The Centre offers a number of visiting fellowships and (non-stipendiary) scholarships each year for established academics to work on particular projects and make use of Oxford libraries and other facilities. During the past three decades nearly six hundred academic visitors have spent time in residence at the Centre, typically for a period of about six months. Their research interests have encompassed all areas of Hebrew and Jewish Studies and they have greatly enhanced the academic life of the Centre. A full list of the visiting faculty covering 1972-2002 was compiled in March 2003, and is available on request.
Honour for the Founder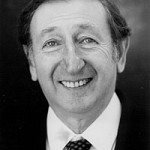 David Patterson, the Centre's Founder-President, was awarded the CBE for services to Jewish Studies in the Queen's Birthday Honours List of June 2003.
David Patterson, 1922-2005