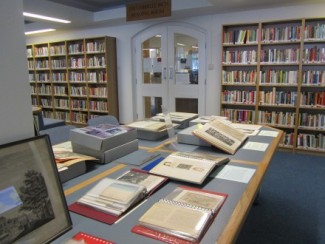 To view the video full screen, please click the button on the right
Visiting Fellowships
Throughout the four decades of its existence, the Centre has enabled many dozens of Visiting Fellows from around the world to pursue research in all areas of Jewish history, literature, language, and thought. In recent years, applications have been welcomed from those working within the scope of specific research projects.
Library facilities include the Leopold Muller Memorial Library and the Bodleian Library in Oxford.
FELLOWSHIPS
OXFORD SEMINARS
IN ADVANCED JEWISH STUDIES
Project 5: Israel in Egypt/Egypt in Israel:
 the land of Egypt as concept and reality for the
Jews in Antiquity and the early medieval period.
(January to June 2016)
This Oxford Seminar in Advanced Jewish Studies will address a number of questions about identity and belonging among Egyptian Jews over the course of one and a half millennia.
Project Leaders:
Prof. Alison Salvesen (OCHJS and University of Oxford)
Prof. Sarah Pearce (University of Southampton)
Prof. Miriam Frenkel (Hebrew University, Jerusalem)
POSTDOCTORAL VISITING FELLOWSHIPS
The Oxford Centre is pleased to be able to offer Postdoctoral Visiting Fellowships to one or two junior scholars to join the Israel in Egypt project.
Applications are invited for January to March 2016
or April to June 2016

Closing date for applications: 1 December 2015
Read more about Postdoctoral Visiting Fellowships
Application form
Application information
Read more about the Israel in Egypt project